The Civil War took its toll on Confederate civilians disproportionately to civilians in the North.  The role civilians played in the conflict was in many ways just as important to their cause as the role of the soldier.  Farms located near or in battlefields were often trampled and livestock confiscated.  Homes were taken over and became officers' headquarters.  The loss of family members to the conflict decreased income and injury to civilians and soldiers took a large toll.  These profiles offer a glimpse into their lives at that time.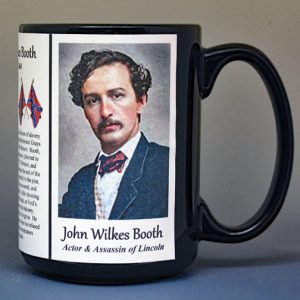 Booth, John Wilkes – Civil War
This John Wilkes Booth mug is part of our collection of Civil War biographical mugs.  An image of John Wilkes Booth and a short biography are features of this history mug.
Small Mug, 11 oz.
Large Mug, 15 oz.
not rated
$

25.00 –

$

35.00
Select options