Many African Americans living in the United States are the descendants of Africans forcibly brought to and held captive in the United States from 1555 to 1865.
The history of black Americans was largely ignored until the latter part of the 20th century. Almost nothing was taught in schools until after the Civil Rights movement and even today the contributions black Americans have made is largely untold.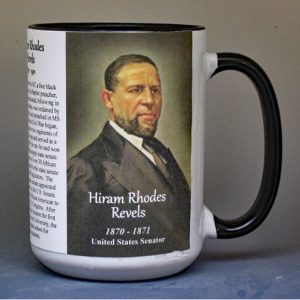 1870-1871, U.S. Senator Hiram Rhodes Revels
This U.S. Senator Hiram Rhodes Revels history mug is one of a collection of U.S. Governance biographical mugs.  An image of Hiram Rhodes Revels and a short biography are features of this history mug.
Small Mug, 11 oz.
Large Mug, 15 oz.
not rated
$

26.00 –

$

32.00
Select options