There were 39 delegates to the Constitutional Convention who signed the US Constitution.  Rhode Island, distrustful of a powerful federal government, was the only one of the 13 original colonies to refuse to send delegates to the Constitutional Convention.
Only six individuals signed both the US Constitution and the Declaration of Independence. They were George Clymer, Benjamin Franklin, Robert Morris, George Read, Roger Sherman, and James Wilson.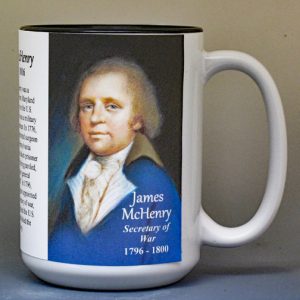 03- James McHenry Secretary of War
This James McHenry mug is part of a biographical series profiling individuals who served as the U.S. Secretary of War.   An image of James McHenry and a short biography are features of this history mug.
Small Mug, 11 oz.
Large Mug, 15 oz.
not rated
$

16.00 –

$

22.00
Select options