American's First Presidents
The Presidents of the U.S. Continental and Confederation Congresses
The Continental Congress served as the government of the 13 American colonies, from 1774 to 1781.  The First Continental Congress met in 1774 in reaction to the Intolerable Acts, a series of measures imposed by the British government after the colonies resisted new taxes.  In 1775, the Second Continental Congress convened after the Revolutionary War had already begun, and in 1776, it took the momentous step of declaring America's independence from Britain. From 1774 to 1781, six men served as president of the Continental Congress.
In 1781, the Articles of Confederation, the United States' first national Constitution was ratified and was in effect until 1791.
The Congress of the Confederation, or the Confederation Congress, was a unicameral body with legislative and executive functions, it was composed of delegates appointed by the state legislatures. Each state had one vote in the Confederation Congress.
There were eight individuals appointed by the Confederation Congress for a one-year term in office, and each was referred to as "President of the United States in Congress Assembled."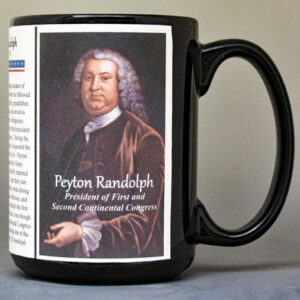 President Continental Congress #1 & #3, Peyton Randolph
This Peyton Randolph History Mug is one of a collection of the Presidents of the Continental and Confederation Congresses biographical mugs.  An image of Peyton Randolph and a short biography are features of this history mug.
Small Mug, 11 oz.
Large Mug, 15 oz.
not rated
$

28.00 –

$

35.00
Select options