Our First Lady series profiles the women who supported their husband, father, uncle or family friend during his term as US president. The origin of the term First Lady may have developed over the years and initially out of cordiality for Martha Washington who was referred to as Lady Washington during her lifetime, but that did not mean it was a chosen or official title. Some think a newspaper article published in 1838 using the phrase first lady of the nation when discussing Mrs. Washington, may have been the first published use of the term.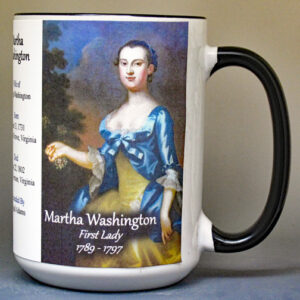 01- Martha Washington, First Lady
This Martha Washington mug is part of our First Lady biographical mug collection profiling the women who helped their husband, father, uncle or family friend while he served as president of the United States.  An image of Martha Washington and a short biography are features of this history mug.
Small Mug, 11 oz.
Large Mug, 15 oz.
not rated
$

25.00 –

$

32.00
Select options