When the U.S. Government was formed it was decided that the vice president was the person who received the second most votes of the presidential candidates in the Electoral College. However, in 1800 there was a tie between Jefferson and Burr, and the House of Representatives had to make the decision of who was to be vice president. This led to the Twelfth Amendment to the Constitution, which decided there were to be separate ballots for the vice presidential candidates.
The main duty of the vice president was to succeed to the presidency if the president died, resigns or is impeached and removed from office. As of May 2017 only nine vice presidents have become president. Eight of them became president when the president died and one, Gerald Ford, when President Richard Nixon resigned in 1974.
Prior to the 25th Amendment to the Constitution, if a U.S. vice president passed away while in office, the office could not be filled until the next post-election inauguration. Sixteen vacancies occurred prior to the amendment being passed. The 25th Amendment allowed the president to appoint a replacement and this decision was then confirmed by both chambers of the U.S. Congress.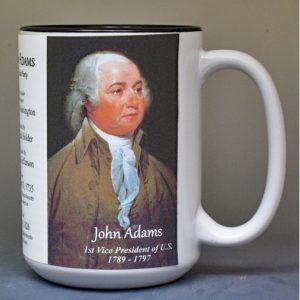 01- 1st US Vice President John Adams
This U.S. Vice President John Adams History Mug is one of a complete collection of U.S. Presidential biographical mugs. An image of John Adams and a short biography are features of this history mug.
Small Mug, 11 oz.
Large Mug, 15 oz.
not rated
$

26.00 –

$

32.00
Select options