Throughout the Civil War, a variety of weapons were used including edged weapons such as knives and swords.
During the conflict advances in firearms from muskets to breech loading rifles and repeating weapons were developed.
A large number of inventions such as the rifled cannon and iron clad war ships were designed and refined.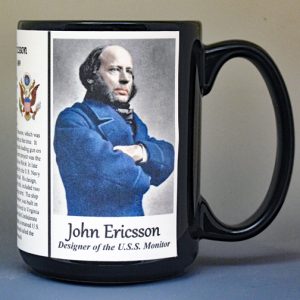 Ericsson, John – Civil War
This John Ericsson mug is part of our collection of Civil War biographical mugs.  An image of John Ericsson and a short biography are features of this history mug.
Small Mug, 11 oz.
Large Mug, 15 oz.
not rated
$

25.00 –

$

35.00
Select options