The Battle of Gettysburg was fought from July 1–3, 1863.
The battle involved the largest number of casualties of the entire war.
It was Robert E Lee's second and last invasion of the North.
The Confederate Army retreated back to Virginia on July 4th which was the same day Vicksburg surrendered to Grant.
These two events are widely accepted as the turning point of the War Between the States.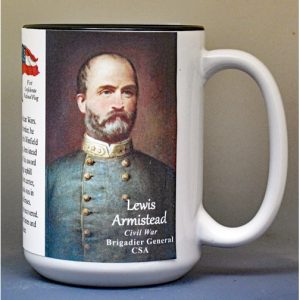 Armistead, Lewis – Gettysburg
This Lewis Armistead mug is part of our collection of Civil War biographical mugs. An image of Lewis Armistead and a short biography are features of this history mug.
Small Mug, 11 oz.
Large Mug, 15 oz.
not rated
$

26.00 –

$

32.00
Select options