The United States Secretary of State is the third-highest official in the executive branch of the US Government and is fourth in line of succession to the presidency.  The secretary is responsible for supervising the US Foreign Service, is the administrator of the Department of State and is an advisor to the president on US foreign policy.
The US Secretary of State is nominated by the president and is then vetted in a confirmation hearing held in the US Senate, before being confirmed by the Senate.  The Secretary of State, Secretary of Treasury, Secretary of Defense and the Attorney General are the four most important individuals in the US President's Cabinet.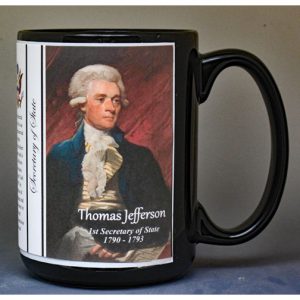 01- Secretary of State Thomas Jefferson
The Thomas Jefferson mug is part of a biographical series profiling individuals who served as the U.S. Secretary of State.  An image of Thomas Jefferson and a short biography are features of this history mug.
Small Mug, 11 oz.
Large Mug, 15 oz.
not rated
$

26.00 –

$

35.00
Select options