The Battle of Antietam, September 17, 1862
The Bloodiest One Day Battle in American History
The Union Army had a two to one advantage in numbers at Antietam.  Robert E. Lee committed his entire army during the battle, while George McClellan held back part of his forces and attacked Lee in a disjointed manner.  The battle resulted in a draw with over 22,700 killed or wounded in the fields, woods and dirt roads, and changed the course of the Civil War.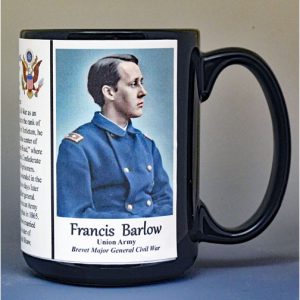 Barlow, Francis – Civil War
This Francis Barlow mug is part of our collection of Civil War biographical mugs.  An image of Francis Barlow and a short biography are features of this history mug.
Small Mug, 11 oz.
Large Mug, 15 oz.
not rated
$

28.00 –

$

35.00
Select options