All eleven states of the states that seceded from the Union were slave states.
States' rights were often cited as cause for war; however, the states' rights issue was founded on the basis of slavery. Southern states feared admitting newly formed territories as Free states, and as such, would change the balance of power in the US Congress.
Another premise was that white men should be free from government intruding on their personal liberties. However in 1862, it was the Confederate states that were first to enact a military draft.
They exempted white men from serving who owned 20 slaves or more. This infringed on the very liberties proclaimed as state's rights. This meant that poor white southerners were required to fight for the wealthy owners of large plantations.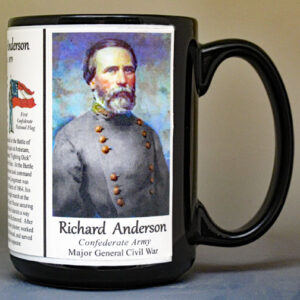 Anderson, Richard – Civil War
This Richard Anderson history mug is part of our collection of Civil War biographical mugs. An image of Richard Anderson and a short biography are features of this history mug.
Small Mug, 11 oz.
Large Mug, 15 oz.
not rated
$

28.00 –

$

35.00
Select options