The United States Senate and House of Representatives comprise the legislative branch of the U.S. government.  Each state has two senators regardless of the state's population.  U.S. senators serve staggered terms of six years.  Prior to 1913, senators were appointed by their state legislatures.  This changed with the 17th Amendment, which mandated senators be elected by popular vote.  The Senate has the power to ratify treaties and to confirm cabinet secretaries, federal judges, Supreme Court justices and other federal executive officials.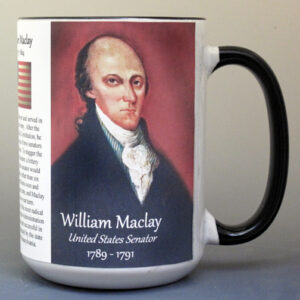 1789-1791, U.S. Senator William Maclay
This U.S. Senator William Maclay history mug is one of a collection of U.S. Governance biographical mugs.  An image of William Maclay and a short biography are features of this history mug.
Small Mug, 11 oz.
Large Mug, 15 oz.
not rated
$

26.00 –

$

32.00
Select options