Hundreds of thousands of Americans served and died during the Civil War.  Soldiers in the US Army fought to preserve the Union of the United States, however as the war progressed their cause evolved into two parts, first of keeping the country together and second to end slavery.  Not all Union soldiers believed in abolition, and many had little or no contact with slaves, but by the end of the war, they fought alongside African Americans.
Before the war was over, nearly 10% of the Union Army was made up of black soldiers.  Over 179,000 black Americans served in the Union Army and 40,000 died serving their country.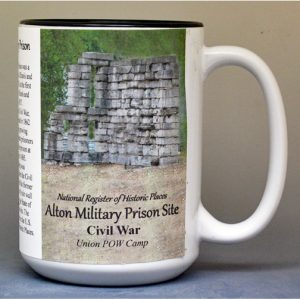 Alton Military Prison – Civil War
This Alton Military Prison mug is part of our collection of Civil War biographical mugs.  An image of Alton Military Prison and a short biography are features of this history mug.
Small Mug, 11 oz.
Large Mug, 15 oz.
not rated
$

26.00 –

$

32.00
Select options